Master Sergeant (Ret.) David A. Cookingham Jr.
August 8, 1971 to May 4, 2015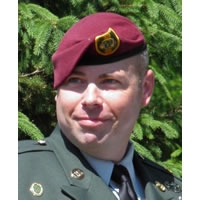 This official obituary tells only part of the story:
PINE PLAINS- David Cookingham Jr., 43, of Broadway, NC and previously of Pine Plains, NY, passed away on May 4, 2015.
Born on August 8, 1971 in Sharon, CT, he was the son of David Cookingham Sr., and Carol (Clinch) Hart.
Dave Entered active federal service on the 26 of February 1991 where he attended One station unit training at Fort McClellan, AL. Upon completing his training he was assigned to the 981st and 212th Military Police Companies in Germany. He was assigned to Fort Ritchie Maryland in 1993 but found his true calling in the U.S. Army in 1996 when he was stationed at Fort Bragg, NC and assumed duties as a United States Army Paratrooper.
Dave would remain within the Airborne Community for the remainder of his military career. The only pause would be from 2003 until 2006 when he was hand selected by the Military Police Corp Regimental Command Sergeant Major to be assigned as an instructor to both Noncommissioned and Commissioned Officers at Fort Leonard Wood, MO the home of the Military Police Corp.
Dave completed both Airborne and Air Assault school for the Army and eclipsed that by attaining a Master Parachutist Badge as well as completing the U.S. Army Rappel master course. Dave was an inductee to the Sergeant Audie Murphy Club, which was a distinct, leadership award and was a recipient of the Order of the Marchuessee, the highest award bestowed on any individual in the U.S. Army Military Police Corps. David was a veteran of Operation Joint Endeavor, Bosnia-Herzegovinia, Operation Allied Force, Kosovo, Operation Iraqi freedom 06-07, and Operation Iraqi Freedom 09-10.
He was awarded with two Bronze Star Medals, three Meritorious Service medals, five Army Commendation Medals, six Army Achievement Medals, The Combat Action Badge, Master Parachutist Badge, and the Army Air Assault Badge.
Dave retired from the Military in March of 2012 and completed his Bachelor's degree in military history while working for the Department of Defense.
In addition to his loving parents David (Carla) Cookingham Sr. and Carol (John) Hart, Dave is survived by his children, Jarrett C. Cookingham and Shannon Viola Lynn Cookingham; brother Michael(Lori Milano); Cookingham; sister Megan Ann Cookingham and fiancé Greg; step sisters Casey and Penny Stevens; step brothers Craig (Jen) Stevens and Daniel (Janet) Stevens; his grandmother, Betty Clinch; nephews TroiHunter and Cole; Uncles, Robert (Joanne) Cookingham, Bob (Lynne) Clinch and Richard (Vicki) Cookingham; as well as Aunt Kathy (Paul) Swenson.
He was predeceased by step father John Ladoceour.
Some of Dave's friends came up from Fort Bragg, NC, to tell the community of Pine Plains about Dave from their experience and in their own words. This video tells that story.
Update: December, 2020
Carol Hart, Dave's mother, has organized the participation of the Pine Plains community in Wreaths Across America. The following video explains the program and shows the first ceremony in the Evergreen Cemetery.